Description
Formerly ProEFA Xtra
For cardiovascular, neurological, and immune support*
Supports healthy skin
ProEPA with Concentrated GLA offers an exceptionally high concentration of the omega-3 eicosapentaenoic acid (EPA), and the beneficial omega-6 gamma-linolenic acid (GLA), and added docosahexaenoic acid (DHA) for comprehensive essential fatty acid support. This highly concentrated omega oil blend provides support for the heart and skin, and the body's neurological and immune systems.
Suggested Use:
Two soft gels daily, with food, or as directed by your health care professional or pharmacist.
Ingredients/Supplement Facts: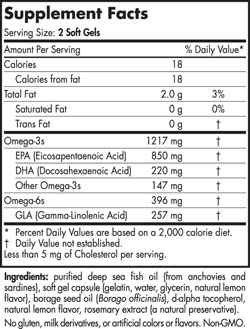 Payment & Security
Your payment information is processed securely. We do not store credit card details nor have access to your credit card information.