Description
100 mg coenzyme Q10 (CoQ10) ubiquinol in extra virgin olive oil
Promotes cardiovascular health*
Supports cellular energy production*
Helps neutralize free radicals*
Nordic CoQ10 Ubiquinol provides 100 mg of coenzyme Q10 (CoQ10) ubiquinol to support cellular energy production and cardiovascular health.* Ubiquinol is the active antioxidant form of CoQ10, a fat-soluble molecule found in nearly every cell, tissue, and organ in the body, which helps transform food into energy.
Why Choose Nordic CoQ10 Ubiquinol?
Is ideal for people who may be deficient in CoQ10, or for individuals with cardiovascular conditions, those taking statin drugs, or for anyone over the age of 40 looking for extra antioxidant support.
Suggested Use:
One soft gel daily in the morning, with food, or as directed by your health care professional or pharmacist. For extra support, take two to three soft gels daily in the morning, with food, for the first two weeks. Then, one soft gel daily thereafter.
Ingredients: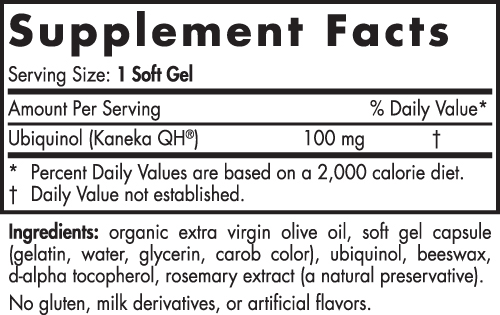 Payment & Security
Your payment information is processed securely. We do not store credit card details nor have access to your credit card information.