Description
1350 mg omega-3s plus phosphatidylcholine, magnesium, L-carnosine, and zinc
Our popular formula for attention and focus, now for adults
Supports healthy brain cell structure and cognitive function
Synergistic nutrients help promote mental acuity and concentration*
Also provides antioxidant support*
Omega Focus combines omega-3s EPA and DHA with phosphatidylcholine, magnesium glycinate, L-carnosine, and zinc glycinate. By supporting the structure and function of brain cells, these five synergistic nutrients help maintain healthy cognitive activities, while also fostering efficient communication between neurons.
Suggested Use:
Three soft gels daily, with food, or as directed by your health care professional or pharmacist.
Ingredients/Supplement Facts: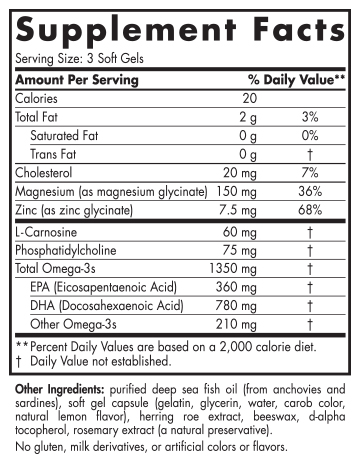 Payment & Security
Your payment information is processed securely. We do not store credit card details nor have access to your credit card information.