Description
Cellular health
Immune system health
Skin and coat health
Joint health
Heart health
Nordic Naturals Pet Cod Liver Oil offers nourishing and healthful benefits. It is an ideal source of the omega-3 fatty acids EPA and DHA, as well as naturally occurring vitamin A.Pet Cod Liver Oil is derived exclusively from wild Arctic cod (Skrei), from the Norwegian Sea off the Lofoten Islands near Bodø, Norway. Due to the seasonal variations of food supply for wild Arctic cod, the amount of vitamin A will fluctuate with each batch. Please refer to the product label for the current amount of vitamin A in the product.
Feeding Directions:
20-39 lbs: 0.5 teaspoon (2.5 mL); 253 mg DHA

40-59 lbs: 1.0 teaspoon (5.0 mL); 506 mg DHA

60-79 lbs: 1.5 teaspoon (7.5 mL); 759 mg DHA

80-110 lbs: 2.0 teaspoon (10 mL); 1012 mg DHA

111+ lbs: 2.5 teaspoon (12.5 mL); 1265 mg DHA
Apply oil onto food, or serve by itself. Do not exceed the suggested daily use without consulting your veterinarian.
Ingredients/Supplement Facts: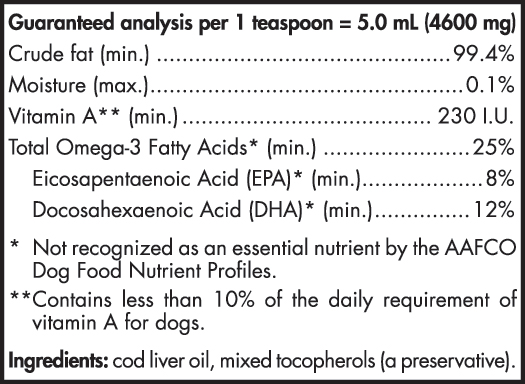 Payment & Security
Your payment information is processed securely. We do not store credit card details nor have access to your credit card information.